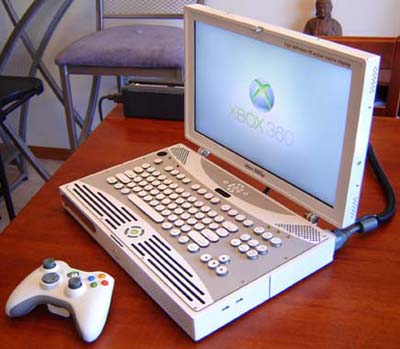 Found this in my hard drive written a while ago. I thought I'd post in case somebody is still interested in a review of a console that has been out nearly two years…
My 360 was purchased last month. It was a toss up between which of the next gen consoles (PS3, Wii and 360) to go for but the 360 won out. Firstly, an most importantly, the 360 has far superior games. It's really that simple. Both the Wii and the PS3 simply do not have strength in gaming depth. Of course, it depends on your tastes but I'm too old to be waving things at the TV playing a tennis game on the Wii and if I got a PS3 i'd have no games to play such is the dearth of anything decent on it. It's a no brainier as far as I'm concerned. Plus, I'm a big FPS fan and the 360 has billions of them. I had a look around Times Square at the consoles in the flesh and my opinion of the PS3 was reinforced – it's ugly and rushed. Anyone want to bet me when the proper 'slim' ( i.e. finished PS3) will be released? I'll give it 2 years. Mind you, in sexiness terms, the 360 is no looker and the Wii wins this somewhat superficial contest.
Anyway, back home and unpacking I was struck as to how big the 360 is. Not only that but the power supply is HUGE and I was a bit disappointed in the looks and size department. Switching it on I was also struck as to how NOISY the console is – it sounds like a PC. Not good. It come complete with a silly headset and the like which I assume is for XBox live but I'll never use it. The 360, being a Microsoft product, has the soulless feel of a PC. When you get a Nintendo, Sega or Sony product you can feel the gaming history and soul from within the console housing whereas the 360 looks, and feels, like a nasty PC World product. Beige. Dumb plastic controller. Needless, tacky flashing lights and a strong bias to a PC style front end. It reminds me of an Amstrad console, or a 3DO or any number of doomed consoles. The 360 console is truly vapid. BUT, and this is the big BUT, the games are incredible. I got three when I purchased, Gears Of War, PGR and Perfect Dark. Perfect Dark is Goldeneye Next Gen style and plays just like the N64 classic but with huge, brilliantly crafted levels and lovely stealthy bits and pieces. Rare have tried everything to make the game as bad as they can (lame front end, crap song at the start, naff lead character, over complication of simple options) but there is NO faulting the game engine and level design. It's a joy to play. PGR is marvellous also and I can verify that the streets of London are almost completely accurate (few mistakes here and there) and I enjoy zooming up Haymarket and looking for a car bomb outside Tiger Tiger but the developers seem to have neglected this detail. Maybe an update will rectify this omission. The third game, and the best, is Gears Of War. This needs to be played on a HD TV too see all of the detail of this gorgeous masterpiece. This is truly a next gen game. It looks, sounds and plays like nothing I have ever played before. The controls take a while to get your head around but once you've got it then you are in locust killing heaven. I have never played a game that has made me jump, made me scared and indeed made me not want to eat for a few hours after playing so detailed and atmospheric is the world the game is set in and the design of the locust. Of the three it is GOW that truly pushes the boundaries whereas Perfect Dark and PGR are variations on a theme.
In summary the 360 looks like shit but has the best games out there. Worth getting one for GOW alone. The next gen has arrived. Enjoy.